Classic camellias are among the most important shrubs in the garden . Abundant flowering, decorative evergreen foliage, easy cultivation: this heather-earth plant offers so many advantages.
Of the many varieties, shapes and colors of flowers, classic white camellias are certainly the easiest to combine with the garden. They bring light and airiness, can harmonize well with other colors or create very sophisticated monochrome scenes.
Here is our pick of our favorite white camellias that can be grown both in the ground and in pots.
In addition, we invite you to read our article on planting, pruning and caring for camellias.
THE BOTANYUKI CAMELLIA: A LITTLE FREE FLOWERING BUSH
We like the classic "botanyuki" camellia for its small, compact size of an adorable bush that is 1 meter thick in all directions. It therefore fits perfectly in small rooms, in urban gardens or in pots.
It blooms between late winter and early spring, from February to April. It is then adorned with delicate small double flowers of 8 cm in the form of peonies. They are creamy white, enhanced by salmon undertones that accentuate the glossy dark green foliage.
'Botanyuki' can be used in isolation to brighten a lawn. In a large container, it can be grown with winter heather during flowering (Erica x darleyensis 'Kramer's Rote', 'Eva Gold' or 'Spring Surprise') or with summer heather as a supplement to the beautiful season.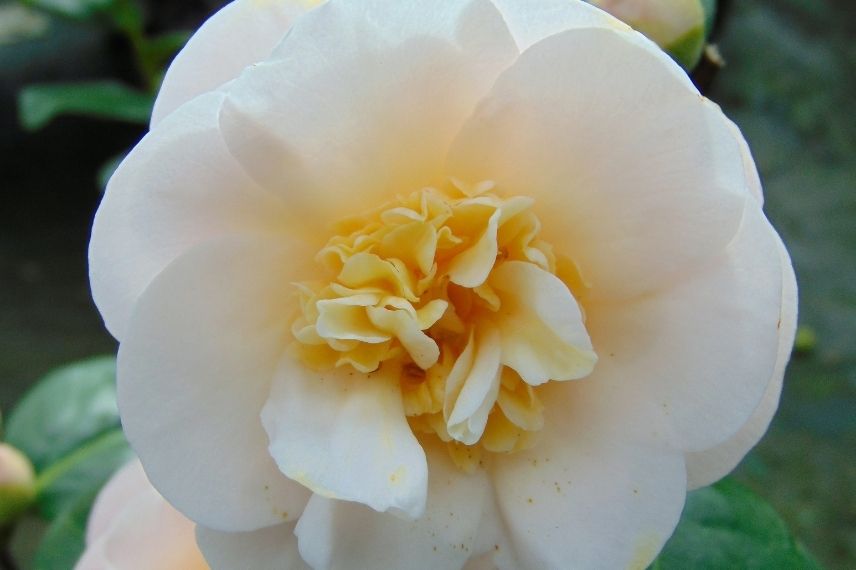 THE 'CINNAMON CINDY' CAMELLIA: A SPICY SCENT
Like all land camellias, ' Cinnamon Cindy ' has a looser, but slimmer silhouette, ideal for creating beautiful flowering hedges.
From January to April, it produces countless little pink, sugar-coated buds. These then open to reveal double white flowers with pink undertones that resemble graceful little peonies. Its name refers to the scent of its flowers, which exude a sweet, sweet and spicy scent with a hint of cinnamon.
When the buds break, the foliage is initially copper-colored before it takes on olive-green undertones.
This fast-growing shrub reaches a height of 1.5 meters and a wingspan of 80 cm.
It does not tolerate scorching sunlight and offers a less sophisticated and more natural atmosphere than the camellias of Japan.
Combine 'Cinnamon Cindy' with a chionanthus or snow tree to take over the flowering time and create a beautiful romantic scene. Also consider a pink deutzia for a pop of color.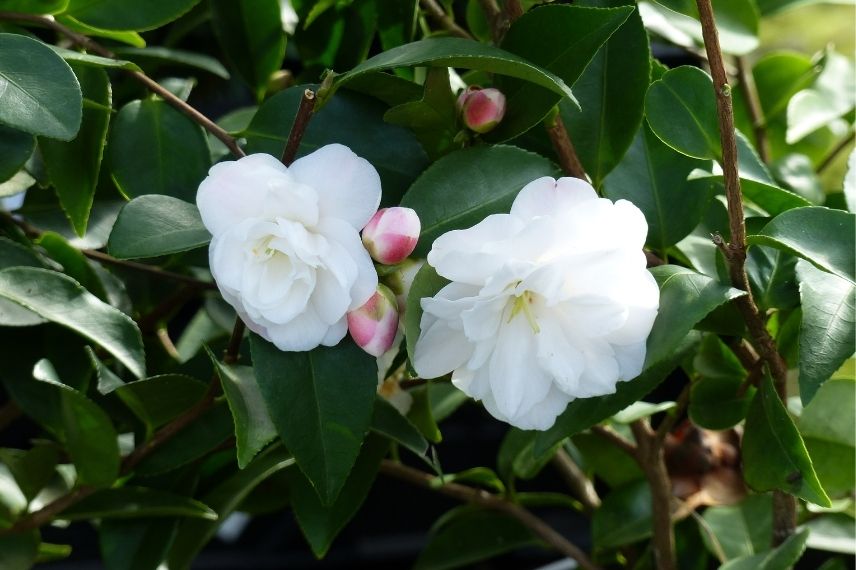 THE CAMELLIA JAPONICA 'MARGARET DAVIS': AN ORIGINAL FLOWER
The Japanese camellia ' Margaret Davis ' enchants with its blossom: It is adorned with large, large, round, double flowers that are reminiscent of peonies. The iridescent milky-white petals are irregularly bordered in bright pink. A real spectacle from February to April!
Its upright silhouette with a columnar port reaches a height of 1.50 meters and a wingspan of 1 meter.
Grow 'Margaret Davis' near traffic areas, on patios or balconies that are lit for several weeks. You can also combine it with perennials or shrubs in the same hues to create a gorgeous shade of rose. Look for fuchsias, perennial geraniums, lily hybrids, or hearts of Mary.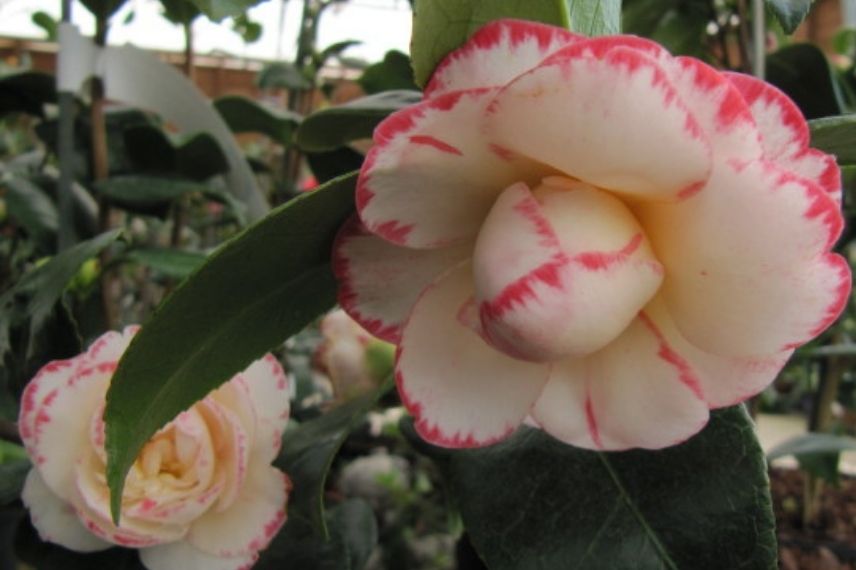 THE CAMELLIA 'JURYS YELLOW': REAL LITTLE WHITE POMPOMS
The classic camellia 'Jurys Yellow' offers original semi-double flowers with a diameter of 6 to 7 cm. They have a first row of petals, which then reveal a dense core of curled, wrinkled petals. Real little pompoms! In terms of color, our camellia offers a creamy white accent with pale yellow in the middle. It blooms between February and April.
This bush reaches a height of 1.30 m at maturity and a wingspan of 70 cm.
"Jurys Yellow" illuminates the partially shaded areas of the garden. Combine it with other heather shrubs such as rhododendrons and azaleas, skimmias and Japanese andromeda. Hydrangeas can complete this picture and will bloom in shades of blue or mauve in acidic soil.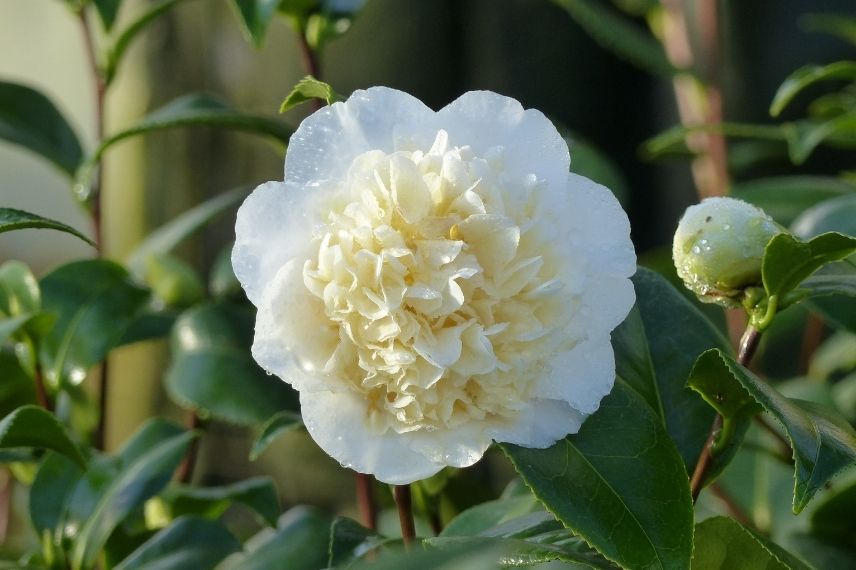 THE DAHLONEGA CAMELLIA: SMALL SIZE, BUT GREAT FINNESS
The classic camellia 'Dahlonega ' is a white variety that flowers in spring between February and April. It offers magnificent double flowers of 7 cm. Its color is white, reflected in ivory, revealing a pale yellow heart. A real sweet after the winter!
Its small format, 1 meter high and 80 cm wide, can be used anywhere in the garden: in pots, in a small space, in flower beds or in the foreground of a shrub hedge. Small spring onions at his feet also work wonders, such as mini daffodils, crocuses, tulips, cyclamen or grape hyacinths, the colors of which our camellia emphasizes.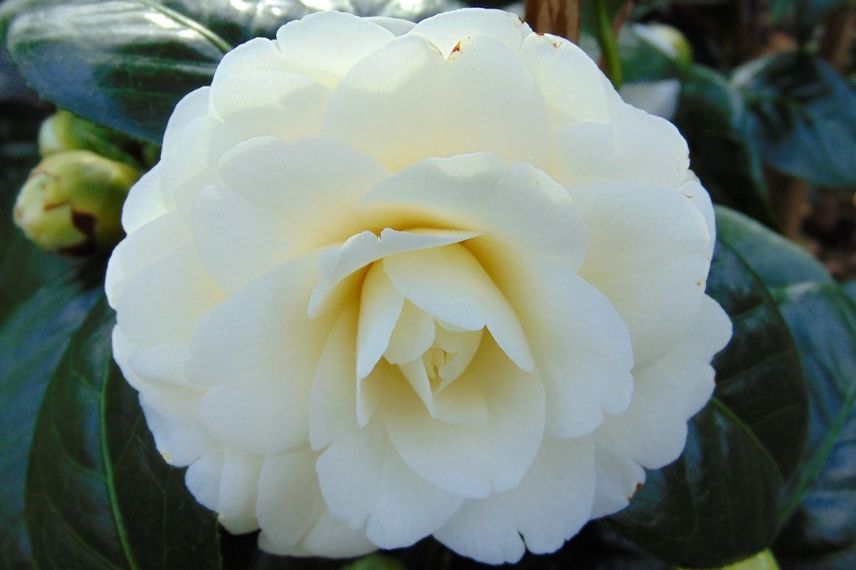 CAMELLIA JAPONICA 'NOBILISSIMA': AN EARLY VARIETY WITH VERY LONG FLOWERING
The Japanese camellia 'Nobilissima' surprises with the length of its flowering period. This variety shows us the spectacle of its flowers from November to March.
It shows 8 cm double flowers in the shape of peonies and offers a flawless white that is simply enhanced by a small yellow heart. The glossy dark green foliage serves as the backdrop for this gentle bloom.
Unlike other varieties, this vigorous camellia offers rapid growth. Its spherical shape reaches about 1.5 meters in all directions.
Thanks to its early flowering, it forms long flower beds. Combine 'Nobilissima' with autumnal Sasanqua camellias, either in monochrome scenes or in harmonious pink and white tones.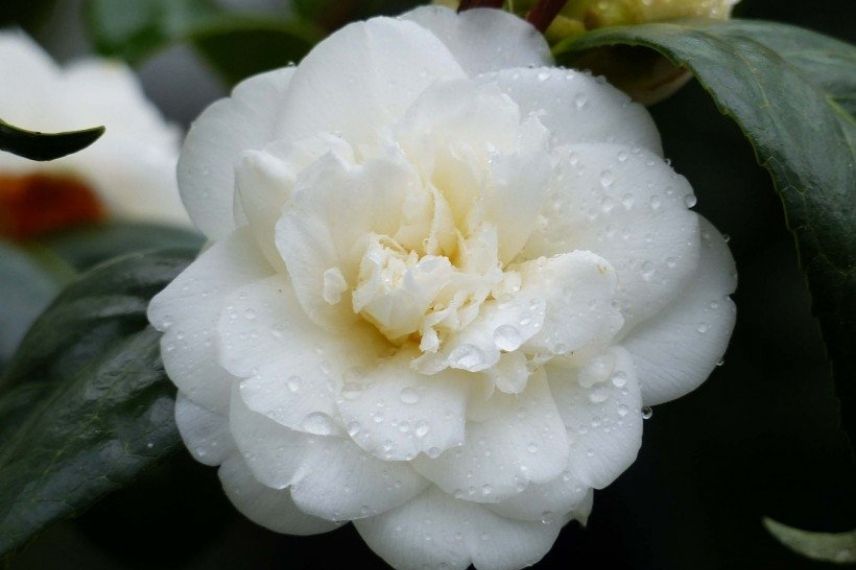 THE CAMELLIA JAPONICA "CINNAMON FRAGRANCE": A LATER, PERFUMED FLOWER
Country Camellia 'Cinnamon Scentsation' is a variety with a very natural style. The individual flowers are gently shaded in pink, creamy white and are reinforced by a nest of golden stamens. The foliage is quite light green.
Just like 'Cinnamon Cindy, of whom she would be a spontaneous mutation, her flower gives off a spicy scent of cinnamon, sweet and greedy.
It blooms later than the camellias listed earlier as it occurs in March-April and lasts through May.
This 1.50 meter high and 1 meter wide shrub finds its place in a beautiful flowerbed. Offer her as a companion oriental hellebore, daphne, and a wintergreen in the foreground that will replace the blossom and clothe the massif with its fruits in winter.