Imagine the Caribbean sun sparkling on clear still blue waters, catching the white sands far below and glistening on schools of colorful fish darting beneath your feet.
You're sitting on the deck of a glamorous catamaran, your legs dangling in the warm water, waiting for lunch to be served. Maybe you've been swimming and now a gentle cool sea breeze is blowing off the palm-fringed beach to starboard.
The ultimate holiday dream is exploring the British Virgin Islands – a region known worldwide as the perfect sailing destination. The British Virgin Islands are known as a beautiful, safe, and easy-going place.
Of course, a holiday on the water can be more relaxed than almost any other. When you add factors like a quality boat and a reliable experienced rental company, you can truly relax on your vacation.
It's best to imagine not having to lift a finger to sail the boat. That's because you've decided to charter a fully crewed boat.
Use one of the worldwide catamaran charter marketplaces like Borrowaboat and all worries about unsafe or uncertified vessels will disappear. You are in the reassuring hands of one of the premier charter marketplaces in the Caribbean.
And if you are considering your first charter, the British Virgin Islands is a great place for you. Navigation is easy, the water is calm and clear and there are dozens of interesting harbors to visit.
Borrowaboat makes vacationing so easy. Just go to their website and check out hundreds of boats available in the area.
Borrowaboat has an incredible 35,000 vessels worldwide, ranging from small yachts and cruisers to one-off superyachts. The range of boats in the British Virgin Island is ever-changing – but expect there are hundreds to choose from.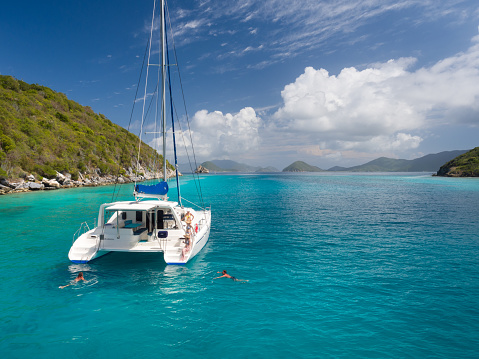 At the time of writing they ranged from a compact 32ft two cabin, four berth yacht for just €250 per day to a fabulous 162ft skippered motor cruiser with room for 12 guests for around €30,000 per day.
Somewhere between these extremes, there are hundreds of options for finding your perfect vacation on the water. And choosing the BVI is a great way to start your sailing vacation.
The islands offer everything from vibrant party spots to secluded, pristine beaches. You can choose your berth – depending on your mood.
The distances between the ports are small. It makes navigating the area easy without the hassle of tackling long, rough sea crossings.
Boat charter has always been in high demand in the British Virgin Islands, which means the industry is well-versed in catering to consumer needs.
Tourism is a big part of the British Virgin Islands and boat chartering has long been an important industry here. So everything is geared towards making the experience as easy as possible.
Most charters begin in Tortola, which is also where you'll find the best places to stock up on supplies, including food and drink.
Then it's off, with more than 50 islands in the group to explore. There are 16 inhabited islands – but they are all contained within 150 square kilometers.
This means you can ask your crew to start the day with breakfast on one island, maybe have lunch on another island and end the day on a third stop. With a crew to take care of the boat, you can embark on your island-hopping adventure without worrying about where to go next.
Some experienced sailors choose to sail themselves; others choose to rent a boat with a professional skipper. However, the ultimate feeling of luxury comes when you charter a fully crewed boat.
This usually means renting a boat with skipper, cook and deckhand. This means all your meals can be prepared and served on deck while the skipper takes care of where you wish to sail.
You never have to help moor the boat or fetch the anchor. There's always someone to help, so you don't have to pull ropes unless you want to.
Rent a larger yacht and you may have room for more crew members as well. How about a nanny to look after your kids, a personal trainer to keep you in tip-top shape, or even a driving instructor to show you how to become an underwater expert?
When hiring a crew you will find that they are professional and discreet enough to respect your privacy when needed. They are trained to give you as much or as little space as you want.
They will have their quarters in a separate part of the boat, separate from the guest rooms and living quarters.
Crew members handle sailing, maintenance, cooking and cleaning. You can usually ask them to do all the shopping for you too – and that includes stocking up on provisions before you set sail.
At the heart of a vacation is the focus on the experience, which can range from adventure to relaxation. Anything that allows you to focus on vacation instead of housework will only add to that feeling.
A crew will help you relax to the max by taking all thought out of preparing a meal and washing up afterwards. Imagine the luxury of being able to tell the chef what you want for every meal of the day – and then sit back, knowing it will be prepared and served exactly how you requested it – and the perfect one Berth you previously desired.