Accessories are as useful in the vegetable garden as they are in decorating it. The vegetable garden bell thus protects young plants from the cold and pests such as snails. It saves several days or weeks on the date of the first harvest.
A classic, Victorian or cylindrical bell
Practical, quick to move and often very light, the vegetable garden cover protects your plants from frost. There are 3 different forms:
The classic looks like a bell. Its broad base offers stability and more space for protected seedlings to grow.
The British-born Victorian bell is a more decorative variation on the previous one, usually made of glass.
The cylindrical bell is less attractive, but offers the most space.
Vegetable bells made of glass or plastic
The real bells for forcing were made of thick glass: a durable material that catches the sun's rays very effectively, but heavy and, above all, too fragile.
They were surmounted by a pretty ball with which they could be manipulated, but which unfortunately almost always broke or unsoldered the rest of the bell.
There are still some old models of these traditional bells in flea markets and flea markets, often at high prices …
Nowadays garden bells are made of plastic but their quality is uneven:
The thin, flexible plastic bells , which are available in various diameters, are of poor quality. They break easily and don't last long. Worse still, plastic yellows and tarnishes very quickly.
Rigid plastic covers (translucent polypropylene with anti-UV treatment) are more expensive but of much better quality. They are stacked for easy storage. They are light and have a ventilation system on top. To support the height growth of plants to be protected, for example tomatoes, there are even versions with risers. They also last for several years without yellowing.
Also, if you're a handyman you know that the lid of 5 liter water cans can play the same role as a salad lid if the bottom has been cut but the collar is missing, which means they are anchored to the bottom. is not obvious.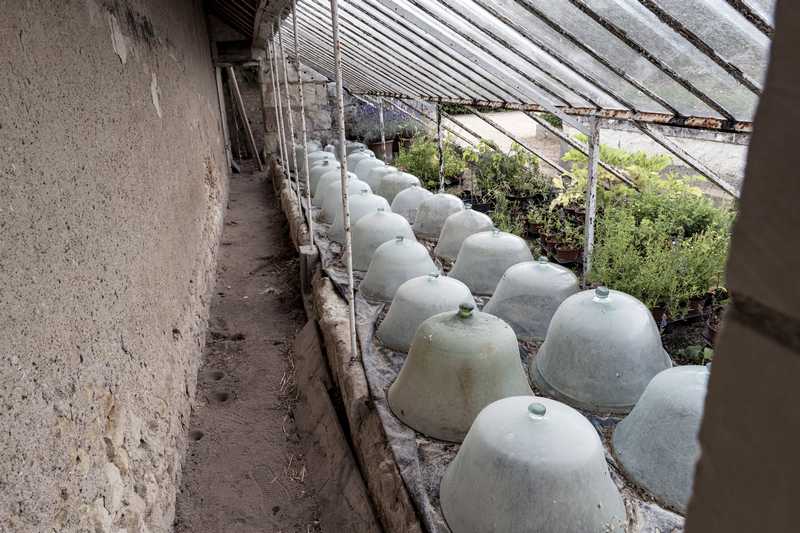 How do you use and care for the vegetable garden bells?
In contrast to a garden greenhouse, a culture tunnel or a garden frame, the bells are elements of the individual protection of your plants .
You can use them for the first time in winter to protect plants that are to be harvested or to grow in winter from frost and all your early sowing: lettuce, lamb's lettuce, chard, sorrel, chicory …
You can then move them and reuse them on other young plants (rhubarb, tomatoes, eggplants, peppers, pumpkins, melons) throughout the spring … They are used here more for forcing, i.e. to accelerate growth. Plants and thus save valuable days during the harvest.
Some rules for their use and maintenance:
The bell is placed flat on the ground over the plant to be protected , preferably without any contact between the plant and the masonry. Cold air must not come in either. Don't hesitate to rub some earth around it.
Glass bells are heavy enough to hold themselves in place.
Sardines or steel picks must be used to secure the plastic vegetable covers to the ground , otherwise they will fly away in too much wind.
Regular ventilation is important to avoid diseases, but also to prevent the plants from burning out when the heat is too high! During the day, place your glass bell on a block of wood or open the ventilation flaps of the plastic bell. But don't forget to close them before dark.
Remove the bells when it rains to moisten the earth.
They should also be cleaned regularly. You can use a damp sponge and a few drops of black soap to restore the transparency of the glass and polypropylene bells. The detergent also gets rid of parasites and fungi stuck to the walls.
However, there is nothing you can do if your bell has turned yellow.